RENT A CATAMARAN IN IBIZA
Lagoon 52F
GOA 10
Starting from/WEEK
12.900 €
Max 10
With skipper
A/C Generator Watermaker
Paddle surf & snorkel kit wifi
Santa Eulalia (Ibiza)
2017
Year
15,84 m
LOA
5
WC
5
Cabins
Lagoon 46
GOA 8
Starting from/WEEK
6.900 €
Max 8
With skipper
A/C Generator Watermaker
Sant Antoni de Portmany (Saturdays)
Ibiza - Club (Mondays)
2021
Year
13,99 m
LOA
4
WC
4
Cabins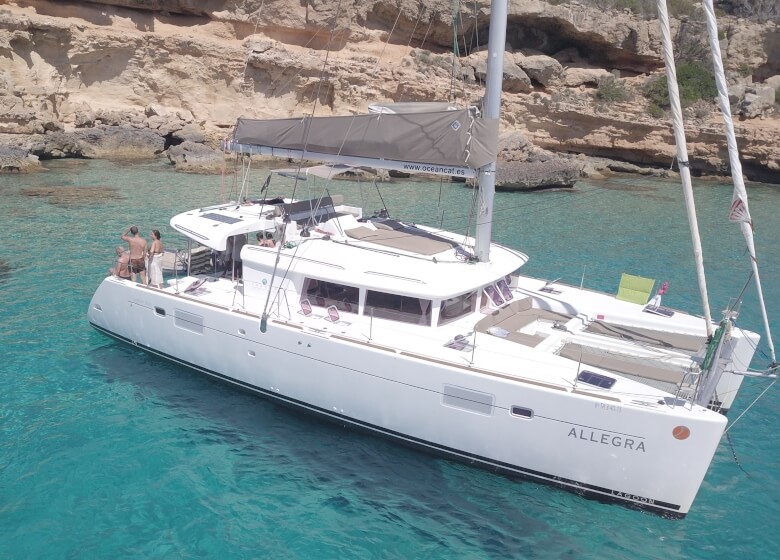 Lagoon 450 F
ALLEGRA
Starting from/WEEK
5.650 €
Max 8
With skipper
A/C Generator Watermaker
Paddle surf & snorkel kit wifi
Sant Antoni de Portmany (anchor)
2015
Year
13,9 m
LOA
4
WC
4
Cabins
Lagoon 42
GOA 6
Starting from/WEEK
4.950 €
Max 8
With skipper
A/C Generator Watermaker
Sant Antoni de Portmany (Saturdays)
Ibiza - Club (Mondays)
2017
Year
12.8 m
LOA
4
WC
4
Cabins
Lagoon 46
MERMAID
Starting from/WEEK
11.900 €
Max 8
With skipper
A/C Generator Watermaker
Sant Antoni de Portmany (Saturdays)
Ibiza - Club (Mondays)
2021
Year
13,99 m
LOA
3
WC
3
Cabins
Lagoon 42
PASCAL
Starting from/WEEK
4.950 €
Max 8
With skipper
A/C Generator Watermaker
Paddle surf & snorkel kit wifi
Sant Antoni de Portmany (anchor)
2019
Year
12,8 m
LOA
4
WC
4
Cabins
POWERBOATS IBIZA AND FORMENTERA
Discover Ibiza and Formentera with our fast Powerboats
FORMENTERA
Excursion from Ibiza to Formentera on Catamaran. Enjoy it!
A route on catamaran to best spots of Ibiza west: blue waters, caves, beach clubs…
SUNSET EXPERIENCE
Choose your best Sunset on catamaran: Café del Mar or Es Vedra
ATLANTIS & ES VEDRA
The only access to Atlantis and Es Vedra Island, on catamaran. Visit them with GOA Catamaran!
NORTH IBIZA
Discover on catamaran the wild spots of ibiza with no civilization and no net.
WAKESURF IBIZA
Enjoy a day in Ibiza wakesurfing!