TIPS, QUESTIONS AND ANSWERS ABOUT RENTING A CATAMARAN IN IBIZA
All you need to know about boat rentals in Ibiza and Formentera
Renting a boat in Ibiza is a unique experience due to its climate, crystal clear waters and inaccessible beaches.
From GOA Catamaran we want to help you solve those doubts that always arise when organizing a trip to the sea or that farewell party with your friends.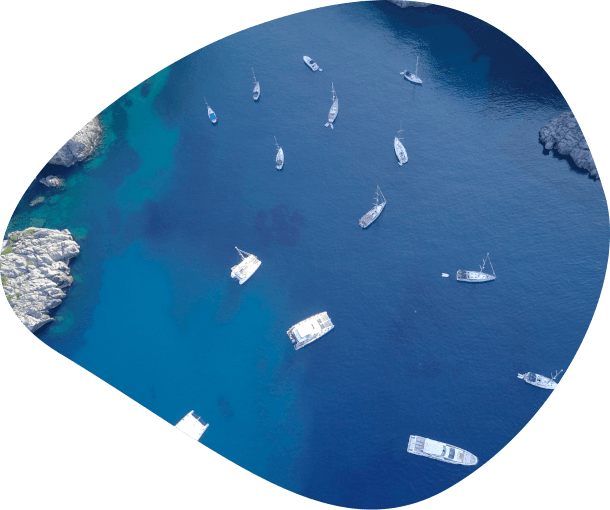 About catamarans and powerboats
Which boat is the best option to rent with GOA, catamaran or power boat?
They are two different concepts: the catamaran is spacious, you can enjoy sailing while in a powerboat or motorboat you get fast where you want and is very agile.
In GOA we say that catamarans and powerboats trips are two different experiences.
What type of boat does one less catamaran or motorboat get seasick on?
The catamaran is more stable with two skates and reduces dizziness.
How many people can go on a GOA catamaran?
In a catamaran can go 11 people plus the skipper.
Can we rent a catamaran in Ibiza or Formentera with GOA Catamaran all year round?
Yes, you can. We have a mooring in the noble part of the Club de San Antonio all year round.
Is there mobile coverage on the catamaran routes organised by GOA?
Except in some very specific places mobile coverage is good for Ibiza and Formentera with all operators.
What GOA excursions or routes assure me 100% mobile coverage and internet access?
All our routes to Formentera and the routes from San Antonio guarantee mobile coverage and internet access.
About preparing for the trip
About embark information
Check-in on Saturday from 17,00 pm. Check-out on Friday at 19:00 pm.
You can sleep on board the night from Friday to Saturday. Disembark will be on Saturday morning at 9.00 am.
Our base is on Sant Antoni de Portmany, IBIZA.
12 things to take on my catamaran trip around Ibiza
Sun protection

Caps

Mosquito repellent

Guide-books about the places you want to visit

Small daily use kit with aspirins and balsams for jellyfish, etc.

Nautical footwear (white sole)

Passenger documentation

Title of the pattern

Some warm clothes or rain

Flashlights

Music

Towels
Where can I check the weather forecast?
Weather Forecast
You can check weather forecast of Ibiza and Formentera inside our web. We have embebed up to 5 diferent sources in order to check current temperature, humidity, wind speed and weather forecast.
See all the information in:   Weather forecast
GOA Catamaran forecast sources
windy.com
eltiempo.es
passageweather.com
Storm Radar
Awesome weather
Can I bring my own food and/or drink aboard GOA boats?
Our fleet has cabins, kitchen and complete kitchenware, "you will feel at home".
Can GOA organise the provisioning of food and drink on board the ship?
Goa can buy for you before and during your holidays food and drink on the boat, we will take your order to the beach where you are.
Is it allowed to visit all the beaches and coves of Ibiza and Formentera or are there areas reserved for being a natural park?
You can visit all the coves, however the anchorage is restricted in some of them due to the protection of the Posidonia.
Best way is to check the protection areas map on the Conseil Balear website.
Could we rent our own diving equipment to take on board GOA boats?
Our boats have space to store this equipment. If you have the qualification to practice scuba diving you can do so and enjoy the crystal clear water of Ibiza and Formentera.
Can I fish on GOA boat trips?
You must have a fishing licence, be familiar with the relevant legislation and respect the areas set aside for this purpose.
Can we travel with a pet on board a GOA boat?
Yes, you can. Pets are welcome at GOA.
Is there a legal minimum age to travel on a catamaran? Can children go and from what age?
Children of any age are welcome to GOA boats. We have vests and protection systems such as nets to ensure greater safety on board for the youngest.
How to book a week charter with GOA
Read all the information about the boat (catamaran or powerboat), photos, features and equipment

Go to the calendar and choose the date you want to make your reservation. Remember that the reservation is from Saturday to Saturday. If you wish other dates, please consult us.

Fill in the contact information and make the online payment of your reservation by credit card, paypal or bank transfer. You can pay in full or if you prefer a 30-50% reservation.
The extras and the deposit are paid at our base on the day of boarding.
Note: If you have any doubts about our payment methods, please contact us by e-mail: info@goacatamaran.com, by phone or by whatsapp: (+34) 634 929 121.
About cancellation policy of GOA Catamaran
The costs charged to the lessee for early cancellation will be: 20% of the total rental if the cancellation is within 60 days of boarding. 40% – if it is between 30 and 60 days prior to boarding. 50% – if between 30 and 15 days prior to embarkation. 100% if it is during the 15 days prior to boarding.
About terms and conditions of the reserve
Reserve 30%-50% of the total price of charter. Second final payment one month before the date of charter. Extras and caution will be paid on our base on the chek in.
Extras
Mandatory –
Pack comfort: (Auxiliar tender with outboard engine, Sheets and Towels, Final Cleaning, Paddle surf and snorkel) : 475 €/Week
Skipper: 266 €/day for GOA 10 and BIG GANI catamarans. Other boats 242 €/day (subsistence allowance not included).
Optionals –
Hostess: 218 €/day, Paddlesurf extra: 120 €/week, Kayak: 150 €/week, Wifi: 30 €/25G, Private transfer airport 7 pax: 100 €, Fall protection net for kids: 150 €
About caution and insurance
The boat has an insurance policy contracted at all risk – with coverage for accidents both of the boat itself and for civil liability and occupants with the limitations specified in the general and particular conditions of the policy. The excess per claim is 1.500 € for all our boats and 2.500 € for model catamaran Lagoon 42 PASCAL.
Data protection and use of audiovisual material
In compliance with the Spanish Organic Law and the European Data Protection Regulation, we inform you that the person responsible for the processing and conservation of personal data are transferred for the purpose of managing contractual or pre-contractual relations with suppliers or customers of the leasing company.
Your data will be kept, and will not be transferred, except for legal obligation. You have recognised rights of access, rectification, deletion, limitation and portability of your personal data, with the limitations established by law and regulations, which you may exercise by sending a request to the above address, and the right to make complaints to the AGPD.
I authorise the lessor to make use of the photographic and audiovisual material carried out on the boat. The images may be used for: Dissemination of activities and events through the website, blog and social networks of the entity, internal use in reports and projects of the association, documents and printed graphic material such as posters, brochures and manuals.
How can I pay the booking?
GOA Catamaran accepts payments by VISA/Master Card, bank transfer and Pay Pal.
To these means of payment must be added the payment in cash in our offices.
Payments for reservations can be made directly from the website with full guarantee and security: Pay a deposit online
Can I rent a catamaran for more than a day but less than a week?
Yes, you can. Call us or write us by e-mail or by whatsapp and we'll see how many days and dates you want to rent one of our boats:
Contact with Isabel Fiesta
Is the cost of fuel included in 1 day excursions and 1 week charter?
The fuel is included in day charter packs without an overnight stay on the catamarans and in our one day experiences.
For bookings of more than one day on the catamarans or motorboats the fuel consumed will be charged at the end of the charter.
Is it better to book directly with GOA or through a travel agency?
We have our own fleet, we are shipowners, you can contact us directly or through an operator, any way you want.
Can I rent a catamaran or a powerboat without a skipper?
In order to maintain an optimal state of our boats we do not rent without a skipper.
This way we make sure that everything is in perfect conditions and with the maximum security for the navigation.