Caves in Ibiza
Top 10 caves in Ibiza
The island has holes and cavities of different sizes throughout its landscape, some even used for years as houses by hippies, others, scenes of arduous searches for hidden treasures. Today we show you the 10 top caves in Ibiza that will make you enjoy the unknown and deep island of Ibiza.
Can Marçà cave
It is located in the north of the island, on some cliffs near San Miguel. The cave dates back more than 100,000 years and was originated by telluric faults.
The cave is located in a natural environment next to a viewpoint to the Murada and Ferradura islands. Visitors can take a tour of about 40 minutes passing through waterfalls, streams, small lakes contemplating various effects of water, light and sounds.
Smugglers were the first to use the cave to deposit their goods. Today you can still distinguish the black and red marks that indicated the entrance and exit of it.
Photo source: welcometoibiza.com
Name: Can Marçà cave
Location: Port de Balansat, 07815 Puerto de San Miguel – Ibiza
Map location:  Click here
Timetable: Every day from 10:30 to 17:00
Cave of Light
It is one of the most secret and inaccessible places on the entire island. Its name alludes to the rays of the sun penetrating into the cave. Once inside the only way out is to dive through the underwater gallery that permanently floods it with water.
It is a cave that is difficult to access, both by land and by sea, since to get there you have to walk an unmarked path of almost two hours through forest and cliffs. This makes it highly recommended to have experience diving and have guides.
Half of the way is done by a dirt road, which later becomes an abandoned stone path built to facilitate access to a house that is now in ruins as well as we will find a small spring. The road dissolves and we must go down with caution to La Cueva de la Luz.
Photo source: es.wikiloc.com
Name: Cave of Lights
Location: S'Ullal de na Coloms, 07828 Ibiza
Map location: Click here
Timetable: 24 hours
Cave of Santa Agnès
It is an underground chapel, considered the oldest church in Ibiza. The grotto is a sanctuary that was used as a Christian and later Arab place of worship in the 3rd and 4th centuries.
At the beginning of the 19th century it was no longer used in the face of landslides, until it was rediscovered in 1907 and restored in 1981.
The cave is privately owned and is not currently open to the public. Next to it is the hermitage of Santa Inés, a temple that was never consecrated and is now the curious Sa Capella restaurant.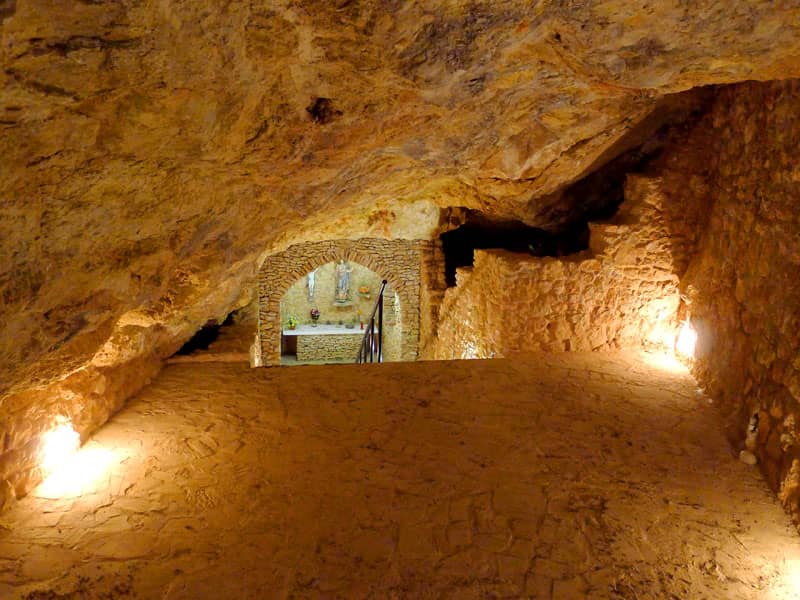 Photo source: Xescu Prats
Name: Cave of Santa Agnès
Location: Carretera de Santa Agnès, km. 0,6. Sant Antoni de Portmany
Map location: Click here
Timetable: Not open to public
Cave of Des Culleram
In Punic times this cave was a sanctuary dedicated to Tanit, the Carthaginian goddess of fertility and fortune, one of the most famous Ibizan deities. The sanctuary was discovered in 1907 where prehistoric remains from the Bronze Age were found.
Today it is owned by the Consell de Ibiza. It is located on the road between San Juan and Cala San Vicente, 150 meters above the sea. It can be visited from April to October and from Tuesday to Sunday in the morning from 10 a.m. to 2 p.m. Admission is free.
Photo source: El Brujo Shiva
Name: Cave Es Culleram
Location: 07810 Sant Joan de Labritja, Ibiza
Map location: Click here
Timetable: Open from Tuesday to Sunday from 10:00 to 14:00
Cova Santa
It has been part of the Ibiza myth since its origin as a pirate haven. It was discovered in the 15th century and opened to the public in 1957.
Its access is a fissure that opens in the mountain giving rise to a grotto through which you access the cave of more than 25 meters deep plagued by stalactites and stalagmites. Since the early 90's Cova Santa has grown to become a beautiful venue for events, restaurants and dinner shows.
Photo source: covasanta.com
Name: Cova Santa
Location: PM-803, km 7, 07817 Ibiza
Map location: Click here
Timetable: Tuesday to Sunday 12:00 – 23:00
Cave of Ses Llagostes
In this peculiar cave conditioned as an aquarium and known as the Cap Blanc Aquarium, you can see a wide variety of marine fauna in the area, from sharks to rotts, groupers and manta rays that live comfortably in this natural cave.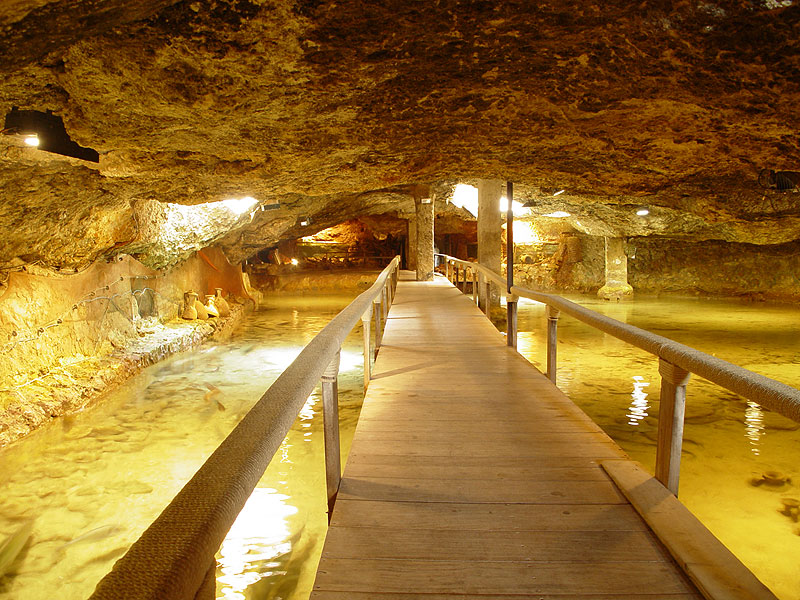 Photo source: Xescu Prats
Name: Cova de Ses Llagostes (Aquarium de Es Cap Blanc)
Location: Ctra. de Cala Gració, s/n, 07820 Sant Antoni de Portmany, Ibiza
Map location: Click here
Timetable: Saturday 10:00 – 13:00
Ibiza's sloping cave
In sa Punta des Forn the geological phenomena and the deformations suffered by the island of Ibiza during the Jurassic period are reflected.
It is characterized by the shapes that the rock adopts, entering the sea like a spear, and in it there is a curious inclined cave whose walls seem to be formed by stone sheets where the ground shows an appearance similar to the curves that lava leaves at solidify.
In the hollows of these curves pools of sea water are formed where evaporation creates sheets of salt crystal, like small ice rinks "They are materials of the Kimeridgiense" (one of the last steps of the Jurassic), explains geologist Luis A. Tostón.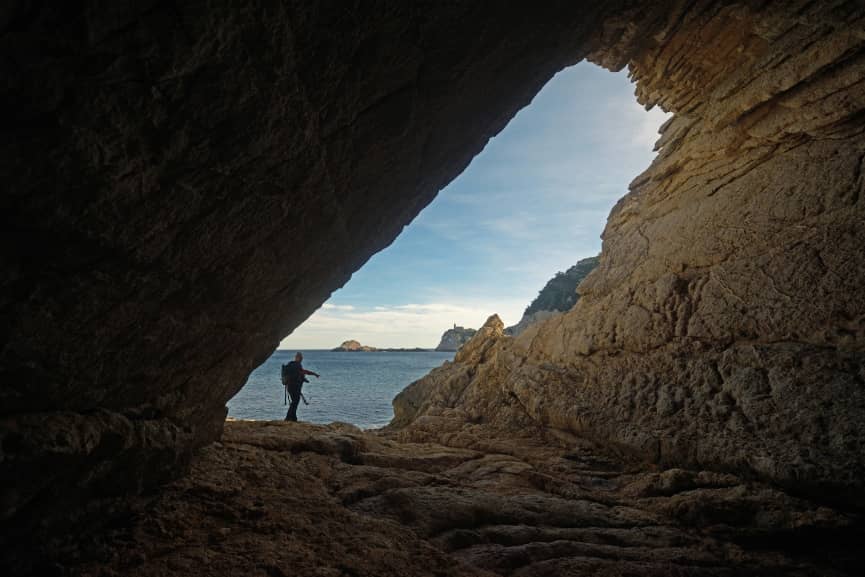 Photo source: territorioibiza.wordpress.com
Name: Ibiza's slopeing Cave (Cueva Inclinada de Ibiza)
Location: Between Punta des Jonc and Punta Grossa, Ibiza
Map location: Click here
Timetable: Open all day
Sa Cova Des Vi or Cave Ses Fontanelles
The cove Ses Fonatenlles also receives the name of Sa Cova des Vi (wine cave), since it served as a cellar, its refreshing walls helped the wine to better withstand the heat, without vinegaring.
The Ses Fontanelles cave houses a small collection of cave paintings under its stone mantle. The two drawings, some of ships, which are now scarcely marked, were made in the Bronze Age (1.000 years BC), according to a French archaeologist, Henri Breuil, who discovered them in 1917.
The excursion is attractive above all for the beauty of the cliff landscape, since from Ses Fontanelles you can see the entire coast of Cala Salada, the bay of Sant Antoni and the west islets.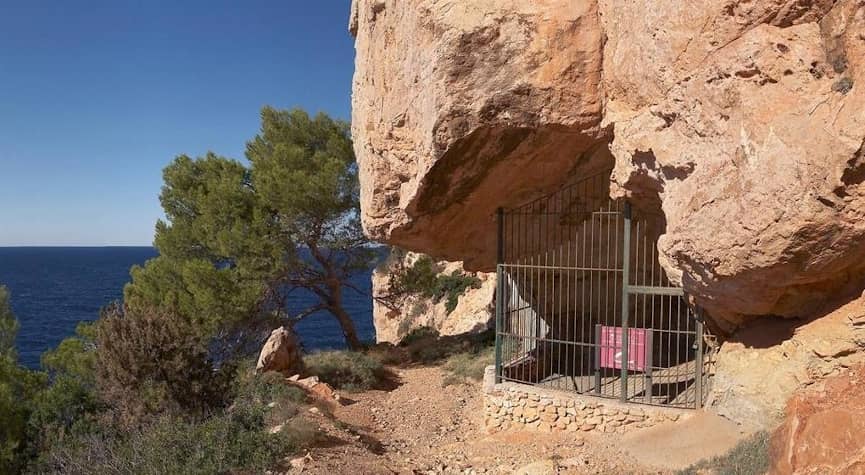 Photo source: descubreibiza.com
Name: Sa Cova Des Vi
Location: North Cala Salada, 07820 Ibiza
Map location: Click here
Timetable: Close (visitor's permit required)
Cova Mirador Es Vedra
In this hidden hippy cave, which is on our way to the Pirate tower, it offers one of the best views of Ibiza, nothing less than the es Vedra nature reserve.
The cave is not for rent, nor can it be bought, nor is it owned by anyone. It is an entrance to the large rock of the many that are at the tip of Sa Pedrera in Ibiza, where it is only possible to get there if you know it exists or if you are taken by one of the privileged people who live on the island of Ibiza.
Photo source: tripkay.com
Name: Cova Mirador Es Vedra
Location: Next to Cap Blanc, 07830 Ibiza
Map location: Click here
Timetable: Open 24 hours
Treasure caves – Cap des Mossons
On an island where it is difficult to distinguish history from legend, the caves of Cap des Mossons, in Mola d´Albarca, have been visited for centuries by treasure hunters. It is also said that such caves were a hiding place during the Civil War and, like many other caves throughout the Pitius orography, a den of smugglers. The difficulty of access, impossible by sea when being on a cliff, make them very suitable for this.
Photo source: wikiloc.com
In all the documentation on the area these four caverns are found in this order:
Cova des Pi
It is the first one that is usually seen on the route located just below the ruins of a shelter for workers in the charcoal storage and a fig tree.
Cova d'en Jaume Orat
The most famous of them all, the Cova d'en Jaume Orat, you can find an old square sieve, similar to the ones used by the gold diggers. And such an instrument gives us a first clue to the history of this place. Object of study of speleologists and paleontologists. In 1983 a campaign was carried out, subsidized by the Consell, in which some 250 m2 were found, filled with large piles of earth. Fossil records of several new species were found in this cave for the paleontological record of the Ibizan Pleistocene. The faunal remains found were of birds, reptiles and gastropods (no mammals), which were sent for conservation to the Balearic Museum of Natural Sciences. In total, 287 specimens were identified. Possibly these birds were nesting in the grotto.
Cova de ses Estelles
Fragments of pieces have been found that reveal sporadic occupations in the grottos, a piece of pot that could be from the Bronze Age, remains of amphorae from the late Punic period and part of an African terra sigillata cup dated in the 2nd century.
The Llibrell cave
Its name is due to a pool that collects the water that seeps into the rocks located at the entrance. It is indicated with a rope tied to two junipers and that can also be used to pass to the other side of the rocky wall behind which is the grotto. This cave is the most difficult to find and the one with the least access; although it is possibly the most spectacular of all, since on the edge of the cliff it has two balconies that offer impressive views of the cove.
Name: Treasure caves
Location: Cap des Mossons, 07830 Ibiza
Map location: Click here
Timetable: Open 24 hours
Do you want to rent a catamaran in Ibiza and anchor next to some of the caves to visit them?
You might also be interested
Ibiza best restaurants GUIDE 2023 [UPDATED]. A complete guide to the best restaurants in the north, south, east and west of ibiza.
How to rent a boat in Ibiza? We're going to explain you how to rent a boat in Ibiza with GOA Catamaran, directly online with instant booking confirmation or simply by contacting our staff by Whatsapp, phone, web form or email.The best way to enjoy the islands of Ibiza...
Welcome to Ibiza, the island where dreams come true! Rent a catamaran with Goacatamaran and experience the adventure of a lifetime!
Want to hire a catamaran? Contact with GOA
For your information: The data from this form will only be used to contact you because you have contacted GOA. Your personal data will never be used for any subsequent advertising campaign or passed on to any third party as stated in our privacy policy.