How to rent a boat in Ibiza
This is what you have to do to hire a catamaran in Ibiza with Goa Catamaran
The best way to enjoy the islands of Ibiza and Formentera is on board a catamaran.  A unique experience due to its climate, crystal clear waters and almost inaccessible beaches by land.
In today's post we explain everything you need to know to rent a catamaran through our website.
In Goa Catamaran we have several options:
In Goa we have 7 catamarans and a motor boat for weekly or daily rentals in Ibiza & Formentera.
If you want to enjoy a day at the islands with your friends or family, we have 7 possible tours on a private catamaran with an all-inclusive rate.
How to contract one of our catamarans or all inclusive excursions?
1. Choose your boat or the excursion you want to do
You can access the page of each of our boats or experiences through the menus on our website.
On the page of each catamaran or excursion you will find all the necessary information in detail: description of the boats, photos, characteristics, equipment, excursion routes, costs included, optional extras, etc.  All photos are real and we have taken them ourselves.
Please read all the information and if you have any questions you can call us, send us an email or contact us by whatsapp directly from our website.
2. Choose dates and fill in the reservation information
Once you decide the best option for your holidays in Ibiza and Formentera, go to the calendar that you will find on the page of the catamaran or excursion that you have chosen.  You can access the calendar through the "see availability" or "book" buttons.
Select the date you want to make your reservation (available days will be marked in green). Remember those weekly reservations are made from Saturday to Saturday. 
In case you want to start the rental on another day or want to make the rental for more or less days, please contact us.
Once you have selected the date in the calendar, fill in the contact information and you can proceed to the next step.
3. Confirm your reservation and make the payment
Select the payment method you want to use. Payment can be made by card (VISA, 4B, MasterCard, American Express), paypal or bank transfer.
To confirm the reservation you can choose to pay the 30% deposit or pay it in full.
Please read the terms and conditions, where all the details of the contract are specified. Once you have read them carefully, if you agree, accept and continue your reservation.
You will be redirected to your payment provider doing it with maximum security.
4. Confirmation of reservation made
Congratulations, your reservation has been confirmed!
You will receive all the details of your reservation by email confirming all your information, the dates chosen, the extras and the payment confirmation.
A member of our team will contact you to confirm that the reservation has been made successfully.
Depending on the reservation you have made, our team will call you again to make a second payment if necessary, and to directly specify your plans in order to offer you the easiest experience on your holidays in Ibiza & Formentera.
Our cancellation policy:
If for some reason you want to cancel your reservation you can do it.  These are the costs  for early cancellation depending on the advance with which it occurs before the scheduled day of shipment:
 Before 60 days: 20% of the total rent
 Between 60 and 30 days before: 40% of the total rent
 Between 30 and 15 days before: 50% of the total rent
 Between 15 and 0 days before: 100% of the total rent
* COVID 19 if at the time of making the charter there was a legal impediment that prevents movement to Ibiza from the contractor's place of residence or prevents navigation in Ibiza waters, the contractor may choose to change the date of the charter subject to availability or the refund of the quantities, delivered and therefore the cancellation of the contract.
If you have any questions about how to rent a catamaran in Ibiza and Formentera with Goa Catamaran, do not hesitate to write to us at info@goacatamaran.com, send us a WhatsApp or call us at 634 929 121
That's how easy it is to hire a catamaran with GOA.
We invite you to discover Ibiza and Formentera, live the experience of knowing the islands on a catamaran
And as always, if you have any questions or want more information about all the day trips we organize in Goa Catamaran, please do not hesitate to call us (Isabel Fiesta) or write to us at info@goacatamaran.com.
And if you want to do a different excursion, tell us what you want to do and we will design it to your liking.
You might also be interested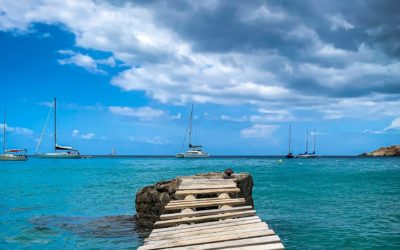 A summer destination that needs no introduction, Ibiza holds a worldwide reputation for party vibes and glitzy beach clubs. This 7-day charter itinerary sailing in and around Ibiza & Formentera is the perfect way to enjoy the authentic Spanish side to the island...
Restaurants in Formentera is a post elaborated from the experience and point of view of GOA and its clients where we want to share with you a complete guide of the restaurants where you can eat well in Formentera. As in our guide of Restaurants in Ibiza coast, the...
Ibiza best restaurants GUIDE 2022. A complete guide to the best restaurants in the north, south, east and west of ibiza.