Saona-47-Nocrala-carrusel-day-charter-01
Saona-47-Nocrala-carrusel-day-charter-02
Saona-47-Nocrala-carrusel-day-charter-10
Saona-47-Nocrala-carrusel-day-charter-09
Saona-47-Nocrala-carrusel-day-charter-08
Saona-47-Nocrala-carrusel-day-charter-07
Saona-47-Nocrala-carrusel-day-charter-06
Saona-47-Nocrala-carrusel-day-charter-05
Saona-47-Nocrala-carrusel-day-charter-04
Saona-47-Nocrala-carrusel-day-charter-11
Saona-47-Nocrala-carrusel-day-charter-12
Saona-47-Nocrala-carrusel-day-charter-13
Fountaine Pajot Saona 47
NOCRALA
7.000 €
starting from / WEEK PRICE
7.000 €
starting from / WEEK PRICE

6 people


3 cabins


3 baths


13,94 m


Skipper


paddle surf

air-cond.


generator

watermaker
Nocrala - The NEW Fountaine Pajot Saona 47 from 2018!. It is a luxury catamaran! This model is so new that there are very few units in Ibiza and Formentera. Be the first to rent the Saona 47 and enjoy maximum comfort. The Saona 47 catamaran has independent air conditioning for each room, generator, sea water purifier with 200 liters per hour of drinking water.
With an elegant, stylish design, and an incomparable comfort this catamaran makes the difference. The teak terrace has spaces to rest, a table where you can enjoy long evenings, and a barbecue to prepare authentic Mediterranean food.
It has a terrace in the Fly Bridge with Chill out to see the Sunsets or to take the aperitif under the sun and enjoy all that this lifestyle can offer.
The Saona 47 has 3 en-suite cabins with independent bathrooms. One of these cabins is the owner version, so it has double space, with a dressing room and with its office in the room!
The comfort of this catamaran has no limit, you will not notice being in a boat, it has Nespresso, microwave, washing machine, vacuum cleaner, and a complete kitchenware!
The Saona 47 catamaran is one of the first catamarans to incorporate a hydraulic platform, you can use it to soak in the sun, as well as to jump like a trampoline!
The two forward piques are enabled to accommodate 2 more people, usually the skipper and / or hosts.
With the auxiliary zodiac and its 25 Cv engine you will be able to practice sports like Wakeboard! It also has a Donuts with which the youngest will have loads of fun!
The new Catamarana Saona 47 Nocrala is at your disposal, rent this catamaran and sail around Ibiza and Formentera!
Nocrala – the new Fountaine Pajot Saona 47 from 2018!. It is a luxury catamaran! This model is so new that there are very few units in Ibiza and Formentera. Be the first to rent the Saona 47 and enjoy maximum comfort. The Saona 47 catamaran has:
Independent air conditioning for each room.
Generator 220v.
Water maker. A sea water purifier with 200 liters per hour.
Barbecue.
Paddle surf and snorkel.
Bluetooth speakers.
2 refrigeratos.
Rent this catamaran in Ibiza and visit Formentera coast this summer!
Year: 2018
Model: Fountaine Pajot Saona 47
Skipper: Yes (mandatory)
Length: 13,94 m
Beam: 7,70 m
Draft: 1,30 m
PAX: 6
Cabs: 3 double
WC: 3 electric
Motor: 2 x 60 HP Diesel
Generator: 1 x 220v
Water tank: 700 l
Fuel tank: 940 l
Air conditioning
Bluetooth speakers
2 refrigerators
Generator
Stren hydraulic platform
Barbecue
Teak floor
Paddle surf
Snorkel
Watermaker
Solarium
Two independent cabins for crew
Wifi
Home appliances
Rates Season 2021
Calendar of rates according to the season
How to book a Week Charter?
Read all the information about the boat, catamaran or powerboat.
Go to the calendar and choose the week you want to make your reservation. From saturday to saturday.
Fill in the contact information and make the online payment by credit card, paypal or bank transfer. You can pay in full or if you prefer just 30-50% reservation. Extras and the deposit are paid at our base on the day of boarding.
Frequently Answers & Questions
These are the most frequently asked questions by our customers. If you have other
doubts you can write us by email or whatsapp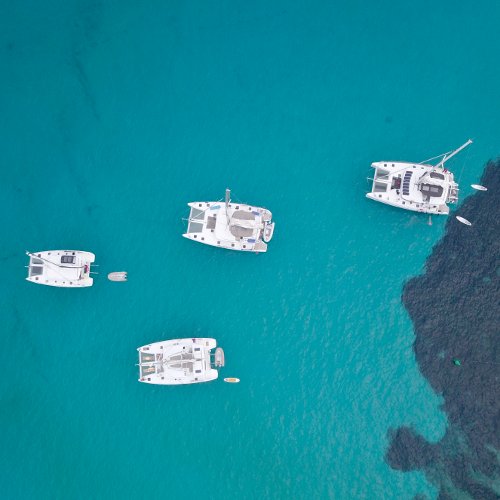 About cancellation policy of GOA Catamaran
The costs charged to the lessee for early cancellation will be: 20% of the total rental if the cancellation is within 60 days of boarding. 40% – if it is between 30 and 60 days prior to boarding. 50% – if between 30 and 15 days prior to embarkation. 100% if it is during the 15 days prior to boarding.
Terms and conditions of the reserve and Pack Comfort
Reserve 30%-50% of the total price of charter. Second final payment one month before the date of charter. Extras and caution will be paid on our base on the chek in.
About boarding times
Check-in on Saturday from 17,00 pm. Check-out on Friday at 19:00 pm.
You can sleep on board the night from Friday to Saturday. Disembark will be on Saturday morning at 9.00 am.
Our base is on Sant Antoni de Portmany, IBIZA.
Extras
Mandatory –
Cleaning Pack: (Auxiliar tender with outboard engine, Sheets and Towels, Final Cleaning, Paddle surf and snorkel) : 420 €/Week
Skipper: 1.526 €/Week (subsistence allowance not included).
Optionals –
Hostess: 1.526 €/week, Paddlesurf extra: 100 €/week, Kayak: 145 €/week, Wifi: 25 €/25G, Private transfer airport 7 pax: 80 €, Fall protection net for kids: 150 €.
About caution and insurance
The boat has an insurance policy contracted at all risk – with coverage for accidents both of the boat itself and for civil liability and occupants with the limitations specified in the general and particular conditions of the policy. The excess per claim is 1.500 €.
Data protection and use of audiovisual material
In compliance with the Spanish Organic Law and the European Data Protection Regulation, we inform you that the person responsible for the processing and conservation of personal data are transferred for the purpose of managing contractual or pre-contractual relations with suppliers or customers of the leasing company.
Your data will be kept, and will not be transferred, except for legal obligation. You have recognised rights of access, rectification, deletion, limitation and portability of your personal data, with the limitations established by law and regulations, which you may exercise by sending a request to the above address, and the right to make complaints to the AGPD.
I authorise the lessor to make use of the photographic and audiovisual material carried out on the boat. The images may be used for: Dissemination of activities and events through the website, blog and social networks of the entity, internal use in reports and projects of the association, documents and printed graphic material such as posters, brochures and manuals.
Reviews of our customers are our best value!
Great service and captain!!
My hubby and I booked this company to celebrate our 40th. The staff were amazing and so accommodating and flexible. We were offered an upgrade and the captain Albert was really nice and tried his best to show us nice parts of the island even though the weather was not so great.
SCho79
A week in Ibiza & Formentera!
We had the most amazing week on the Nailah catamaran! Everything was perfect, we were a small group of friends who had been dreaming of this trip for a long time, and it exceeded our expectations. Our captain Jose was fantastic.
Lisa B
Catamarans that may also interest you