The best Ibiza and Formentera boat trip
Discover all the best bays and landscapes of the Pitiusas islands
We offer you the perfect sailing route around Ibiza and Formentera in catamaran to see all the best bays and landscapes of the islands. Once decided visiting the islands of Ibiza and Formentera with our boat, chartered or owned, the next question would be what route you are planning to follow. We have designed for you the best Ibiza and Formentera boat trip!
The Goa route is meant to spend 7 days at sea, according to weather conditions, with San Antonio harbour (Ibiza) as base port.
Are you ready to start the catamaran route around Ibiza and Formentera? Let's go.
Day 1. Saturday
It is the first day, stowed the weekly shopping, we can't wait for jumping into the sea for a first swimming.
We ply for a short time aiming north and once passed Cap Blanc we will reach the beautiful bay of Cala Grassio where we can go snorkeling into a natural crystal swimming pool.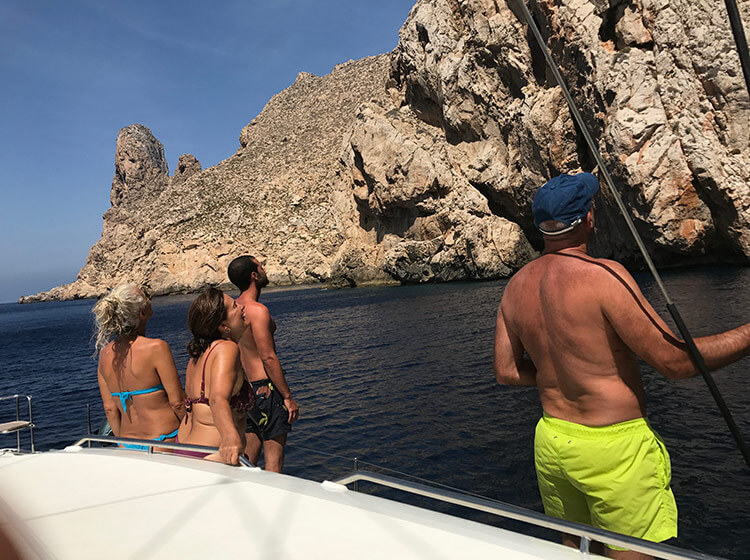 Then, in about 1 hr. sailing, we will reach Cala Bassa where, if we decide for, an amazing experience with a glamourous service at Cala Bassa Beach Club will be there for us.
From Cala Bassa we suggest extending our navigation to Cala Salada in order to see the amazing sunset before to enter into the beautiful harbour where we will anchor for passing the night enjoying of an immaculate bay with cliffs for diving and two white sand beaches for swimming.
Do you think this could be the best Ibiza and Formentera boat trip? Read on and you'll see why it is.
Day 2. Sunday
Wakened restored and ready for a peaceful swim and a rich breakfast, we will weigh up the anchor and set our sails towards the north of Ibiza island.
Past Cap Novo we will spot Margaritas Island where we can catch the opportunity of passing under one of the island natural arc by paddle surf or dinghy, then we will reach Cala Albarca, ideal set for a quick dip.
Following our northbound route, we will be fascinated by the suggestive landscape on the way to Cala San Miguel where we will anchor for lunch on board or at the traditional and famous beach bar called chiringuito el Pirata. Late afternoon we will reach Cala Benirras by dinghy where having an amazing experience immersed in a magical atmosphere made by a marvelous sunset with the islet of Bernat as our background.
Day 3. Monday
Raising the anchor early in the morning we will approach the beautiful bay of Cala del Aleman (Cala Blanc) as the perfect site for a good breakfast and a tonic dip.
Our day of sailing will follow the astonishing outline of the north coast of the island passing by Cala Xarraca, Portinax and Punta Grossa where the abandoned lighthouse and the magnificent cliffs will capture our attention. After Cala San Vicente we will follow the coast southbound towards Ibiza town passing by the island of Tagomago and Santa Eulalia bay.
Once at Ibiza for the sunset, anchored in Talamanca bay or moored in one of the full services well equipped Marinas, we will enjoy of an amazing Ibiza style night.
Day 4. Tuesday
We will wake up leisurely and after leaving the port with ease we will head towards the east coast of Formentera.
Nearby el Paso (Es Frejus), between the island of Formentera and the Islet of Espalmador we will anchor for a compelling swim into the turquoise blue uncontaminated waters.
Following our southbound route, we will pass by the islet of Espardell until we will arrive at Es Puyols, amazing little town famous for its coloured market and multiple bars, restaurants and shops.
Raized the anchor we will follow to Es Calò bay where we will pass the night surrounded by crystal waters and unforgettable cliffs hiding caves ideal for snorkeling.
After sailing 4 days we are sure this is the best Ibiza and Formentera boat trip.
Day 5. Wednesday
We will continue on our discovery of Formentera. Following the breathtaking cliff outline we will ply towards the most eastern cape of the island, Kingdome of the lighthouse Faro de la Mola, famous for its sunrises. Almost nearby there we will sight small white sands beaches, but caution with anchoring due to shallow water.
Passing by the south of the island we will continue to Cala de los muertos and the long beach of  Playa del Migjorn. Before to arrive to Cala Saona we will stop for an amazing experience of snorkeling by Las cuevas at the discovery of the hidden pools.
 We will spend the night peacefully anchored into the wonderful harbour of Cala Saona from where, renting a bike or a motorcycle, we will easily explore the inner part of the island as visiting the beautiful traditional village of San Francesc
Day 6. Thursday
Today we will relax on board enjoying of short navigations north then eastbound.
We will go to the port, puerto de la Savina, where we can relax sipping a drink comfortably seated at a bar terrace, going shopping or simply walking around. Indeed, nearby the port we will be captured by impressive and unforgettable views: the Estany de peix, the Estany pudent, the saltworks with their chromatic shades and the landscape of Ibiza with Es Vedrà as scenery.
Plying towards the northest of the island we will get sight of the glamorous narrow strip of land named by its beaches of Illetas and Estrocador where go diving is a must due to the clearest waters as the Carribean sea. Three miles northern we will spend the night fastened at a buoy in the virgin bay of Espalmador islet where we can go easily ashore and walking to the north reach the Bahia des Porcs from where we can have a sight of el Freus, the strait which separates Ibiza from Formentera and its nautical traffic regulated by an astonishing lighthouse.
Day 7. Friday
We will dedicate our last day on board visiting the south part of the island of Ibiza.
Leaving Formentera we will ply northbound for five miles to Las Salinas, with its long beach full of beach clubs, restaurants and bars, small shops and services. Following to the west we will approach Cala Jondal and Cala Port Roig
After wich we will be totally captured by the amazing and unforgettable view of Es Vedrà, the magical island with its blue water and the beautiful bay of Cala d'Hort. Sailing northbound we will get sight of Cala Vedella, the welcoming little bay of Cal Molí, Cala Tarida and Cala Codolá set of a wonderful snorkeling through its cliffs and caves. Finally, we will spend our last night anchored at Cala Conte where we will wake up surrounded by clear waters, marvelous beaches and an astonishing view of the island Isla Conejera.
And here is our catamaran route around Ibiza and Formentera. Definitely, this is the best Ibiza and Formentera boat trip. Are you in the mood? Discover here our fleet of catamarans to make your route around Ibiza and Formentera.
If you have any doubt, ask our team.