4 one day catamaran cruises to discover the best beaches in Ibiza
We propose you 4 different catamaran routes in Ibiza where you can discover some of the best coves
The duration of our one day catamaran cruises is of 8 hours approximately. That is why there is the option to bring your own food and drink aboard our rental catamarans to spend and make the most time on the boat, to enjoy swimming and have a rest on board. There is also the possibility to book previously in one of the beach restaurants or beach clubs "chiringuitos"  on the coves we will be visiting. We approach you to the coast on the tender/dinghy although some of the chiringuitos offer also this service for free. Learn more about our proposal of 4 one day catamaran cruises to discover the best beaches in Ibiza.
Route 1.- Ibiza West Area. Boat and catamaran route. From San Antonio to the Western coves including a unique sunset.
To visit this area we have 2 navigation options.
Option 1: From San Antonio to Cala Bassa and Calas del Compte / Cala Conta, Ibiza.
Option 2: From San Antonio to Cala Graciosa, Cala Gracioneta, Cala Salada, Cala Saladeta and Punta Galera.
Depending on the sea and wind conditions, there are 2 options starting from San Antonio, either from our embarkation location in Cala de Bou or from the private Marina San Antonio Yacht Club/ Club Náutico San Antonio "Es Nautic" where the smallest of our family, Lagoon 380 GOA 3 is moored.
Option 1
Set sail from our base port visiting Cala Bassa and Calas del Compte / Cala Conta, the most attractive beaches in the west of the island. A short distance from the starting point in San Antonio.
The first one to visit is Cala Bassa, with its mythical and elegant beach bar "Cala Bassa Beach Club" located in front of the sea. Here we will anchor and enjoy a great swim in its crystal clear waters, and we can swim a short distance to the small caves that are on the coast to enjoy some snorkeling.
The second in proximity are the Calas del Compte / Cala Conta, one of the best beaches in Ibiza, Top Beach Number 1! Composed of three small and beautiful coves of crystal blue water, with sandy bottom to enjoy another swim and snorkeling that is fantastic in these waters.
From Cala Conta you can see two small islands, Conejera and Dragonera. On this beach we find three restaurants to choose from whether you want a mojito, an ice cream or a simple coffee. The "Sunset Ashram", with incredible views of the cove, the "Chiringuito Cala Escondida" and the luxurious "Restaurante S'Illa Des Bosc".
Option 2
Set sail north towards Cala Graciò, a cove with fine golden sand and crystal clear turquoise waters that make this beach one of the most attractive on the west side of Ibiza. With a beautiful natural environment and also has all the necessary amenities.
Next to it, we will find Cala Gracioneta, very small and surrounded by green pines and with impressive turquoise waters that make this small cove of Ibiza a magical place to spend a fantastic moment with friends or family. In this small cove you can find the pleasant restaurant "El Chiringuito", where you can eat, have a coffee or an ice cream.
We will continue our sailing cruise towards Punta Galera. A wonderful place that is worth visiting and will impress you, since it is one of the most peculiar landscapes of Ibiza. Punta Galera, is an area of ​​cliffs, do not expect sand for sunbathing, it is more an intimate area of ​​Ibiza.
It is a stretch of smooth, flat rocks that form different levels, where people go to sunbathe. It is a natural place, without chiringuitos and without agglomerations, where nudism is popular. There you can enjoy swimming, and snorkel.
Cala Salada
After this stop, we will return to Cala Salada, one of the most famous coves for anchoring. It is an open cove between cliffs and surrounded by pine trees and nature. It is one of the best coves to do snorkeling, as its bottoms have abundant marine life, there are always many fish and on the coast the most daring will find large rocks to jump into the water.
Next to Cala Salada, is Cala Saladeta, both coves are connected together by a short path, and both are surrounded by fabulous crystal clear waters to swim.
Upon returning from this route is the best to see, to watch the sunset of San Antonio from the catamaran, another postcard that you cannot miss and immortalize in front of the legendary clubs Café Mambo and Café del Mar, a unique experience.
ROUTE 2.- Ibiza South Area- Boat and catamaran route by Cap Llentrisca, Sa Pedrera- Atlantis, Es Vedrá, Es Vedranell and Cala D'hort
On this route we will sail for longer, so if what you like is sailing here you can enjoy an authentic sailing day. We will embark on Cala Jondal and head towards Cap Llentrisca, which together with the peak of Sa Talaia de Sant Josep is the highest area of ​​Ibiza. It is a coastal area of ​​great landscape variety, with numerous nesting bird colonies, among which Eleonora's falcon stands out. The area has become known as the Natural Reserves of "Es Vedrá" and "Es Vedranell".  We will be able to observe these two majestic islets, mainly photograph them and we will sail to its shore.
A short distance from Cap Llentrista is Sa Pedrera with the famous Atlantis rock formation formerly used as a quarry to extract the famous "marés" stone used in large part for the construction of the D'alt Vila fortress in the 16th century. It constitutes a mandatory stop for bathing in its natural pools.
Es Vedrá and Es Vedranell islets

After swimming in Atlantis we crossed the islets of Es Vedrá with its 385 meters of altitude and Es Vedranell, which is somewhat smaller. They have become one of the best known symbols of the Pitiusas Islands and are two of the most photographed icons of Ibiza. The islets are privately owned, some goats live in addition to the endemic subspecies of native lizards Podarcis pityusensis that differ from the common lizards by its intense blue color. There is a lot of legend and history in reference to these two islets about their power and energy. The sunsets are famous for the wonderful sunset behind these islets.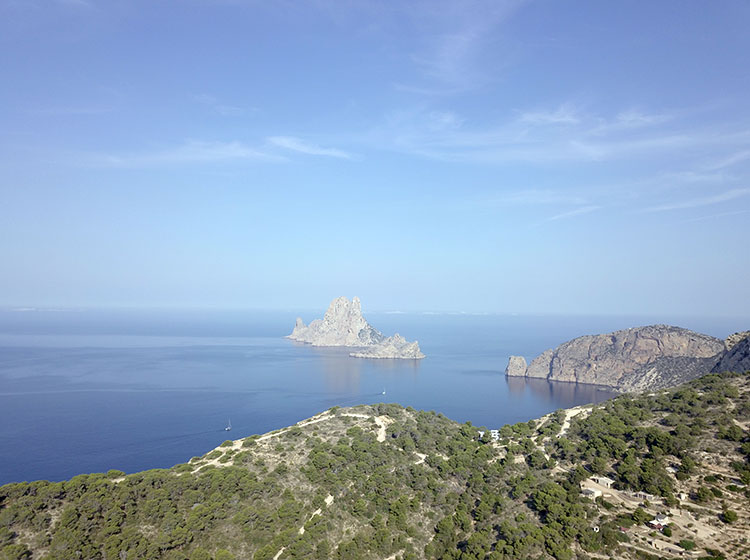 We continue sailing to Cala D'Hort, a small, endearing cove with sandy beach and where you can stop for lunch. There are a couple of restaurants "El Carmen" and "Es Boldado". From Cala D'hort there is a spectacular view of Es Vedrá.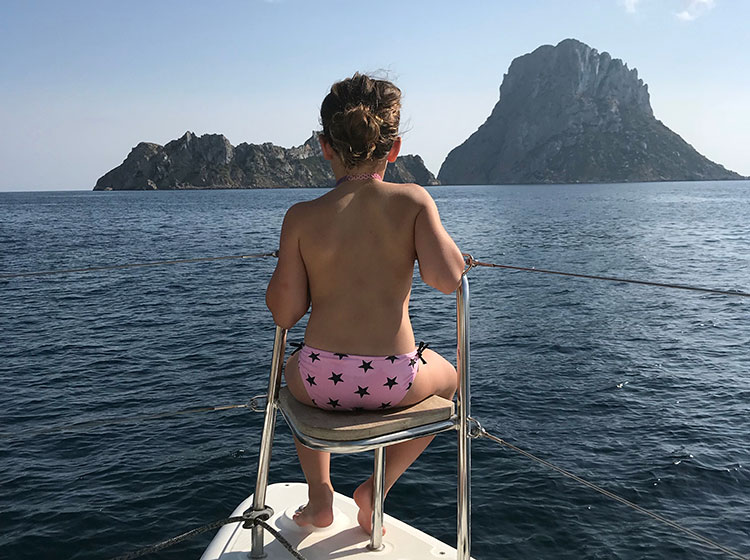 We will return from Cala D'Hort to the starting point in Cala Jondal after having a good nap on board the catamaran and having a last swim.
ROUTE 3.- Ibiza East and South Area. Boat Catamaran cruise visiting Salinas Beach, Sa Caleta, Cala Jondal and Porroig
On this occasion we will set sail and discover te East and South of Ibiza. As we pass through this itinerary, we come across Cala de Porroig, Jondal and Sa Caleta. These coves are located in a "large bay", and are very close which makes a short and comfortable navigation. We can anchor and spend a long time enjoying its wonderful waters and seabed.
According to sea and the wind conditions we will start the route either in Playa Salinas (very close to the airport) embarking directly with the dinghy from its south side beach shore or from the jetty/pier of Blue Marlin Beach Club in Cala Jondal, which is located on the following cove to the south.
Salinas Beach
It`s famous for its white sand and crystal clear waters that invites you to a swim from the first moment. It is part of a natural park declared by UNESCO and in spring it is frequented by birds and flamingos. Its name is due to the proximity of the Salinas de Ibiza, salt extract area.
One of the first stops will be in Sa Caleta, a beautiful cove from where you can see its red cliffs ideal for those who love peace and tranquility surrounded by an impressive nature, there are different areas where to swim. There is a restaurant "Sa Caleta" that opens throughout the year and has several areas to eat, has a nice outdoor terrace and Mediterranean garden.
After this first stop and swim, our sailing route continues to Cala Jondal. This cove is one of the favorite places where numerous boats anchor. It also has the famous exclusive restaurant Blue Marlin Ibiza Beach Club, very fashionable with famous and elegant people. It offers a menu of food and drinks with a wide variety of cocktails, champagne, cavas, natural juices, and DJ live music.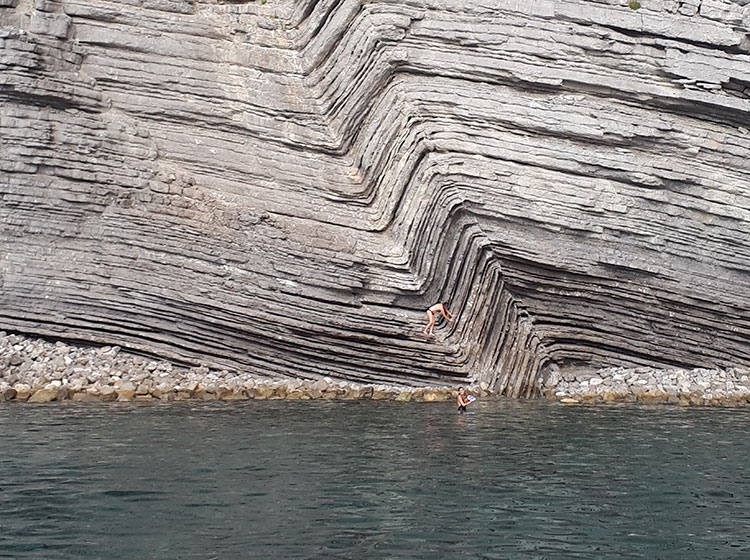 To finish this incredible day on board we will stop at Porroig, a cove located under a cliff, for that reason not very frequented by the people. It offers a very relaxing view from the sea where we can observe the vegetation, the Mediterranean pines reaching almost to the edge of the sea and the typical fisherman's houses all very picturesque that gives it a special and very Ibizan charm.
Once we finish swimming and relaxing in Porroig we sail back to return to the starting point.
ROUTE 4.- Formentera. Boat and catamaran cruise from Ibiza to Formentera
We start this sailing trip in Cala Jondal, embark as always from the jetty/pier of the Blue Marlin Beach Club and set sail to Formentera which is in front of us. We sailed for 1 hour and 45 minutes to the first stop on the island of Espalmador, we anchored in front of this wonderful and quiet beach for a first swim or relax and,  if the weather allows we get off to the beach for a short walk to enjoy the views.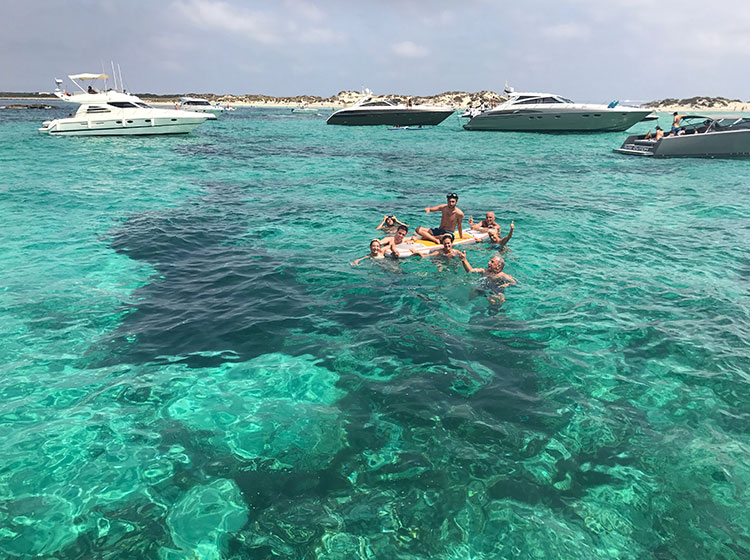 After this first stop we continue sailing until we arrive the first beach of Formentera, the famous and well-known beach of Illetas. Here we anchor and if you have made a booking for lunch we get off to its well-known beach restaurants "chiringuitos" or to eat on board if you have brought your food and drink. After lunch we return sailing through the pass of Es Trucadors, which joins Formentera with the island of Espalmador and finally we sail back to the starting point.
You may also be interested
Thinking of renting a boat next Easter holidays? The good weather comes after the winter, the days begin to be longer and we still do not find the agglomerations that we can see in summer. Discover the 7 best excursions you can do on your getaway to Ibiza and...
Ibiza best restaurants GUIDE 2023 [UPDATED]. A complete guide to the best restaurants in the north, south, east and west of ibiza.
How to rent a boat in Ibiza? We're going to explain you how to rent a boat in Ibiza with GOA Catamaran, directly online with instant booking confirmation or simply by contacting our staff by Whatsapp, phone, web form or email.The best way to enjoy the islands of Ibiza...